One of the most fascinating things in the world is undoubtedly space travel. Looking at the Earth being away from it and exploring the miracles of the universe can only be a dream for many but for some, this is a reality that they live every day. There have been many astronauts who have had this wonderful opportunity to explore the outer space and witness the true beauty of our planet Earth.
While the benefits of space exploration can be many in the field of science, from the perspective of a layman, it is the aesthetic beauty of this universe and particularly, of planet Earth that can be absolutely awe-inspiring. Astronauts who travel the space get to see just that, a sight that is definitely out of the world!
Memories that astronauts have got back – prized possessions
As you read this blog, there are astronauts up in the space creating some amazing memories. When the beauty of the world can be so spectacular, it can only imagine how dynamic and remarkable every sight of the Earth can be from the outer space. Anything that beautiful and amazing needs to be captured and some astronauts have breathtaking shots of themselves with the blue planet.
As the foothold of Germany in space is getting stronger by the day, more and more astronauts from this country are getting their lifetime opportunities to travel the space and this has resulted in the world witnessing some of the best selfies of the most astronauts with the Earth.
Here is a little more about 10 of these truly outstanding astronauts and their very famous Earth selfies.
1. Ricky Arnold
When Ricky Arnold and his fellow NASA astronaut installed high definition cameras to record enhanced views of their commercial spacecraft on their mission in 2018, they took an unbelievably beautiful picture of the Earth during their spacewalk. This picture is now recorded as one of the best Earth selfies.
2. Nick Hague
NASA astronaut Nick Hague shared with the world an incredible space selfie with Earth being 260 miles below him from his spacewalk of 2019.
3. Annie McClain
Annie McClain repeated the same feat as Nick Hagues by clicking a very beautiful picture of the Earth again in early 2019. Annie has her helmet on as she takes this noteworthy picture.
4. Mark Vande Hei
Mark's space selfie was from his 7-hour, 24-minutes long spacewalk in 2018. What is unique about Mark's picture that makes this image truly loved is the fact that his space selfie also has a reflection of his partner in his helmet.
5. Mike Hopkins
Mike Hopkins 2014 space selfie is a truly picturesque view of the blue Earth with NASA astronaut Rick Mastracchio image showing up in his helmet visor.
6. Scott Kelly
Scott Kelly uploaded her spacewalk selfie from her space mission of 2015 hinting this was her first spacewalk and thereby making the picture a lot more special.
7. Alexander Gerst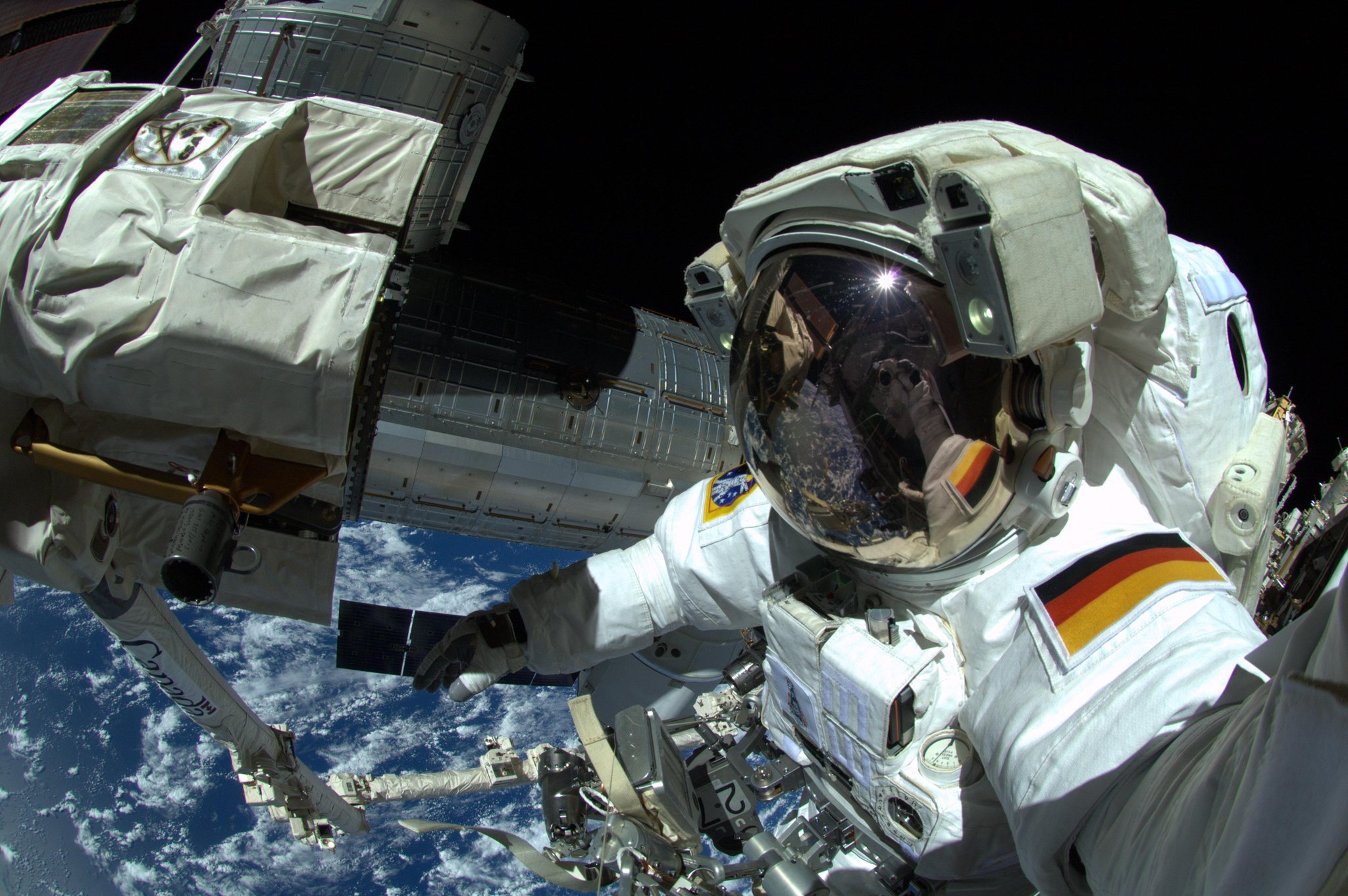 European Space Agency Alexander Gerst's 2014 space selfie is a beautiful image of his helmet visor that captures the reflections of the various components of the space station he was working in as well as that of the bright sun.
Recommended: Astro Alex: Spanshots from Space
8. Ricky Arnold
Ricky Arnold took his famous space selfie in 2018 while performing some upgrades at the International Space Station.
9. Thomas Pesquet
Thomas Pesquet's space selfie of January 2017 is famous for its beautiful capture of Earth.
10. Aki Hoshide
Astronaut Aki Hoshide's space selfie is a striking image that captures the sun, Earth and the astronaut's robotic arms, all in one frame.
Space selfies by astronauts are always special moments that are true pieces of memorabilia for them and for others, an inspiration that leaves them awestruck.